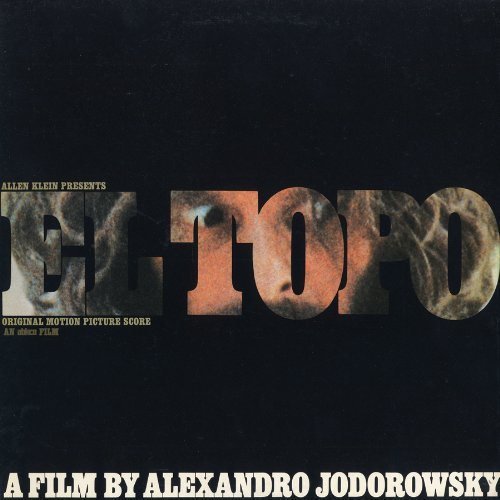 On January 6, the soundtracks of Chilean-born auteur Alejandro Jodorowsky's legendary film opus The Holy Mountain and his latest and equally ambitious The Dance of Reality are set for release by ABKCO Records through Real Gone Music. This will be the first time the soundtracks have been made available in either CD or LP formats. The two labels have worked together in the past, releasing the soundtrack to El Topo, Jodorowsky's controversial breakthrough film.
One of the ironies of the career of Chilean-born filmmaker Alejandro Jodorowsky is that while he is best known as a visual stylist, his most avid and loyal champions have often been musicians. When Jodorowsky arrived in New York from Mexico City in 1970 carrying a copy of the then-unreleased El Topo, it was the jazz producer Alan Douglas who bought the distribution rights to the film. When Jodorowsky and Douglas were looking for a venue in which to screen El Topo, it was John Lennon and Yoko Ono who asked for it to run at midnight following their short-film festival at New York's Elgin Cinema. And after six months of sold-out midnight screenings at the Elgin, it was Lennon's manager, Allen Klein (ABKCO's founder), who bought the rights to El Topo and agreed to produce its follow-up, The Holy Mountain. But then, music has always played a very large role in Jodorowsky's films—and that has never been more evident than in the soundtracks to The Holy Mountain and to his latest film, The Dance of Reality.
Another kind of music—something that wasn't entertainment, something that wasn't a show, something that went to the soul, something profound
When Jodorowsky wanted, in his words, "another kind of music—something that wasn't entertainment, something that wasn't a show, something that went to the soul, something profound," for the soundtrack to The Holy Mountain, jazz legend Don Cherry and crack studio musician (and one-time member of the Archies) Ron Frangipane came forward to share composing and, along with Jodorowsky, conducting duties. The result was a score that is every bit as hallucinatory as the fantastic visual imagery in the film itself. A cornucopia of musical styles that range from deep, primordial chants, to sitar folk melodies, to blaring orchestral riffs and romantic string arrangements provide the perfect aural accompaniment to a film that follows the philosophical and spiritual journey of its protagonist.
ABKCO and Real Gone Music have spared no expense in the creation of the gatefold double LP and CD of The Holy Mountain soundtrack. Both editions feature liner notes by New York Times contributor Eric Benson that include exclusive quotes from Jodorowsky himself, accompanied by a copious number of production stills. Produced for release by Grammy-winning producer Teri Landi and Mick Gochanour, and mastered from the original tapes by Joe Yannece (with lacquer cutting on the LP by Carl Rowatti at Trutone Mastering), this long-awaited release of Alejandro Jodorowsky's The Holy Mountain: Original Soundtrack offers a major addition to the soundtrack canon and a completely unique listening experience.
The Dance of Reality marked Jodorowsky's triumphant return to the film world in 2014 after a 23-year hiatus. For the film's soundtrack, he tapped his own son, Adan Jodorowsky (a.k.a. "Adanowsky"), whose work as a composer and performer (with Devendra Banhart, among others) has won him an international following in his own right. In the radiantly visceral autobiographical film, a young Jodorowsky is confronted by a collection of compelling characters that contribute to his burgeoning surreal consciousness. Adding to the autobiographical nature of the work, the film was shot in Tocopilla, a coastal town on the edge of the Chilean desert, where the filmmaker was born in 1929. Blending his personal history with metaphor, mythology, and poetry, The Dance of Reality reflects Jodorowsky's philosophy that reality is not objective but rather a "dance" created by our own imaginations. To accompany the film's rich, dense and disturbing imagery, Adanowsky's score is alternately lush and comical, blending brooding string passages with hypnotically repeating piano figures that create a mood that is at times foreboding, at times wistful and, as is always the case with a score to a Jodorowsky film, surreal. ABKCO/Real Gone Music's release of the complete soundtrack to The Dance of Reality on LP and CD features a number of beautiful production stills from the film that are included on the album jacket and in the CD booklet. As mastered by Joe Yannece, Alejandro Jodorowsky's tradition of remarkable film soundtracks lives on with The Dance of Reality.