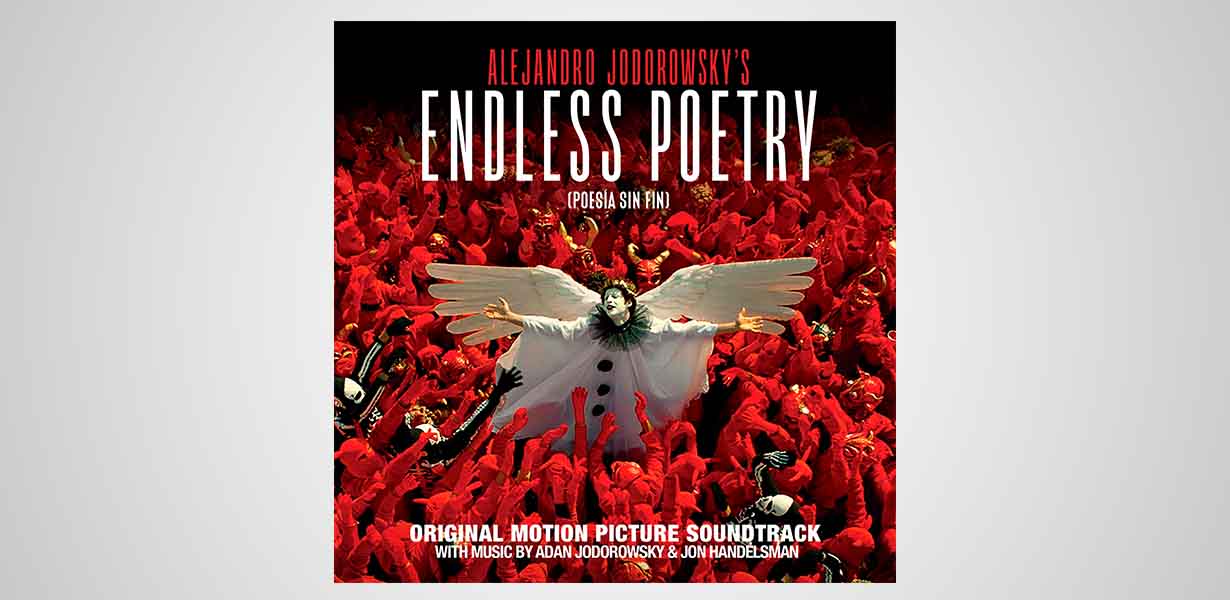 New Jodorowsky Film's Score Composed By Lead Actor/Son Adan Jodorowsky & Jon Handelsman To Be Released Digitally; Film Opens In Select U.S Theaters This Month
The soundtrack for avant-garde filmmaker Alejandro Jodorowsky's acclaimed new autobiographical feature Endless Poetry (Poesia sin fin) has just been released digitally by ABKCO. The film, opening in New York and Los Angeles July 14, and nationally on July 21, recently was the recipient of the Audience Award for Best Narrative Feature at the San Francisco International Film Festival.
15 of the 19 tracks contained in Endless Poetry (Poesia sin fin): Original Motion Picture Soundtrack was composed and performed by Alejandro's son Adan Jodorowsky (aka Adanowsky), who also stars in the film, portraying his own father as a young man.
"a work of disciplined and touching emotional resonance"
Described by Variety as "a work of disciplined and touching emotional resonance," Endless Poetry details Alejandro Jodorowsky's life in his 20s. Against the wishes of his authoritarian father, the protagonist leaves home to pursue his dream of becoming a poet, and is introduced to the bohemian and artistic inner circle of Santiago, Chile in the 1940s and 50s. He meets Enrique Lihn (Leandro Taub) and Stella Diaz (Pamela Flores), two unknown poets who would become driving forces of twentieth-century Hispanic literature. Told through a unique surreal and psychedelic visual language, with a soundtrack to match, Endless Poetry is an ode to the quest for beauty and inner truth as a universal force capable of changing one's life forever.
Raised in France, Adan Jodorowsky began playing piano and guitar at a young age, joining the punk band The Hellboys as a teen, and eventually released three solo albums. He has acted in several films, beginning with his father's Santa Sangre (1989), and more recently, Julie Delpy's 2 Days in Paris (2007). Adan also composed the score to The Dance of Reality (2013), which serves as a prequel of sorts to Endless Poetry, concentrating on the childhood of Alejandro Jodorowsky.
"When I compose music for films, it is the experience of allowing a dialog that has no words to emerge," Adan Jodorowsky commented. "It is a dialog that is there, hiding in the story, and I become a channel in which the untold comes alive through music. So, in this case, I revealed a family sound story that has many landscapes, from mist to light."
Multi-instrumentalist composer/arranger Jon Handelsman contributed four songs to the soundtrack. Born in New York, the saxophonist/flautist/clarinetist currently lives in Paris and leads the 11-piece l'Orchestre de la Lune. He has worked with Manu Dibango and Arthur H. among others, and contributed to The Dance of Reality score. "Sueño sin fin" was composed and arranged by both Handelsman and Alejandro Jodorowsky (the filmmaker's own contribution to Endless Poetry (Poesia sin fin): Original Motion Picture Soundtrack).
In conjunction with today's release, Adan Jodorowsky will be performing at Chicago's Rudio Festival and will be stopping by the Gene Siskel Film Center table there for a meet-and-greet/autograph session and Facebook live stream to promote Endless Poetry, which will be screening at the film center July 28 through Aug 3. He will also put on a special acoustic performance at the Endless Poetry Soundtrack Release Party on July 13 at E&C Studio (146 Bowery St., New York, NY 10013 http://estherandcarolnyc.com/lounge).
 Endless Poetry U.S. Screening schedule here.
Adan Jodorowsky appearances:
July 7 – Ruido Festival, Chicago
July 13 – E&C Studio, New York City (performance, Endless Poetry Soundtrack Release Party)
Track List
1)     Matucana – Adan Jodorowsky
2)     Verde – Adan Jodorowsky
3)     Gateau et violon – Jon Handelsman
4)     Cadeau – Jon Handelsman
5)     Maricon – Adan Jodorowsky
6)     Hermanas cereceda – Adan Jodorowsky
7)     Ricardo y Alejandrito beso – Adan Jodorowsky
8)     Diablo al alma – Adan Jodorowsky
9)     Robo a la luz de la luna – Adan Jodorowsky
10)  Café Iris Street – Adan Jodorowsky
11)  Stella and Alejandro – Adan Jodorowsky
12)  Los mineros – Adan Jodorowsky
13)  Ya no soy virgen – Adan Jodorowsky
14)  God Doesn't Exist – Adan Jodorowksy
15)  Casa de enrique – Adan Jodorowsky
16)  Los mendigos sagrados – Adan Jodorowsky
17)  Me voy – Adan Jodorowsky
18)  Si jamais – Jon Handelsman
19)  Sueño sin fin* – Jon Handelsman
All tracks composed and arranged by performer, except *composed and arranged by Alejandro Jodorowsky and Jon Handelsman