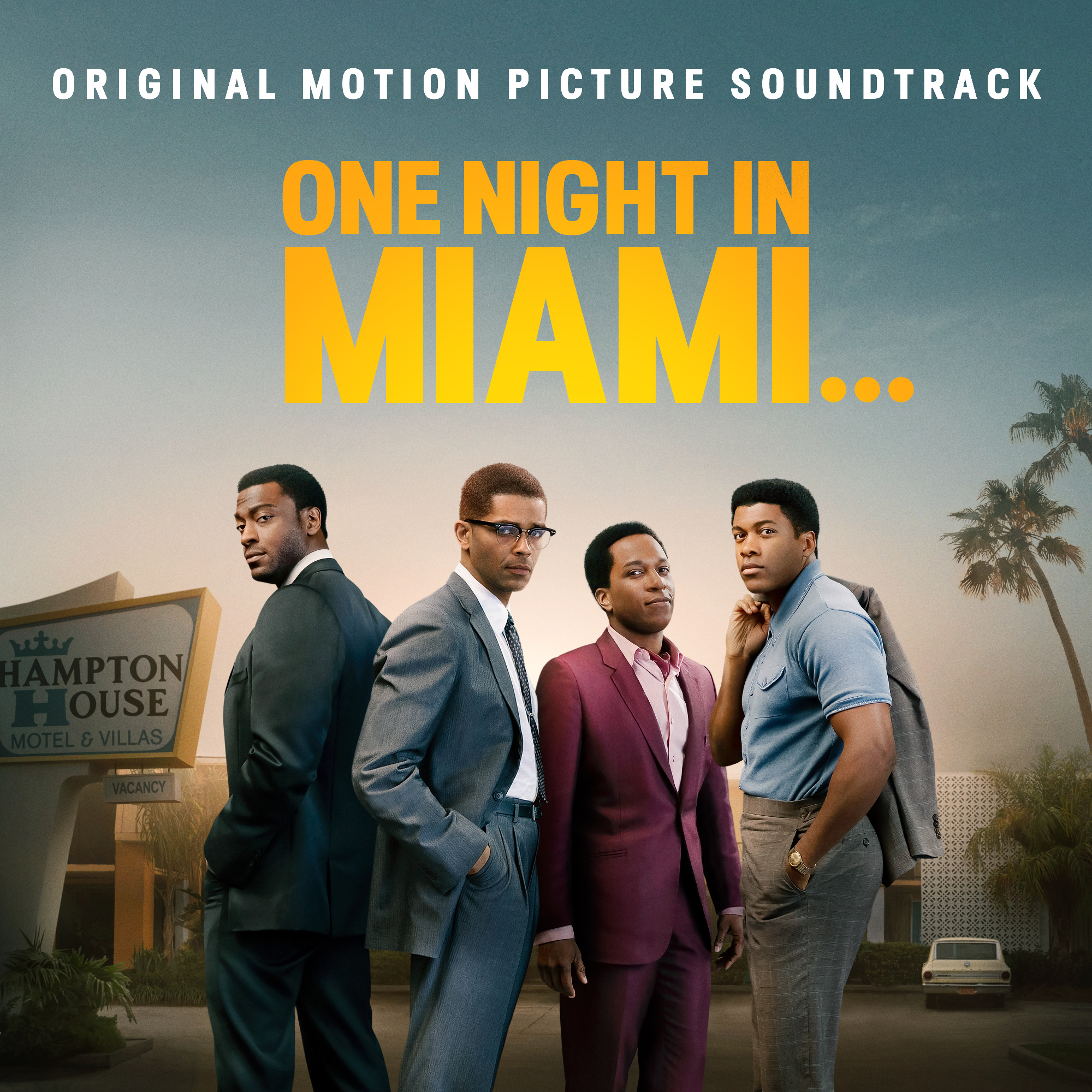 On January 15, 2021, ABKCO Records will release One Night In Miami… (Original Motion Picture Soundtrack), the album that accompanies the much-anticipated film directed by Oscar® winner Regina King. One Night In Miami… was written for the screen by Kemp Powers, based on his Olivier-nominated 2013 stage play, the film is produced by Jess Wu Calder and Keith Calder of Snoot Entertainment and Jody Klein of ABKCO Films with King and Powers serving as executive producers. The film will be distributed globally by Amazon Studios. 
Set on the night of February 25, 1964, the story of One Night In Miami… follows a young Cassius Clay (shortly before he became Muhammad Ali) as he emerges from the Miami Beach Convention Center as the new World Heavyweight Boxing Champion. Against all odds, he defeated Sonny Liston and shocked the sports world. While crowds of people swarm Miami Beach to celebrate the match, Clay – unable to stay on there because of Jim Crow-era segregation laws - instead spends the night at the Hampton House Motel in one of Miami's historically black neighborhoods. It was there that he celebrated his win with three of his closest friends: activist Malcolm X, singer Sam Cooke and football star Jim Brown. The next morning, the four men emerge determined to define a new world for themselves and their people. The ensemble cast consist of Kingsley Ben-Adir as Malcolm X, Eli Goree as Cassius Clay, Aldis Hodge as Jim Brown and Leslie Odom Jr. as Sam Cooke.    
Leslie Odom Jr. performs Sam Cooke's most celebrated repertoire in the film and on the soundtrack album including "You Send Me," "Chain Gang," "Good Times" and "A Change Is Gonna Come." Apart from his performance of the Sam Cooke material, the soundtrack includes "Speak Now," a powerful original song co-written and performed by Odom who has long admired Sam Cooke. "Playing Sam Cooke was some big shoes to fill. It was a challenge and an honor. I have such respect and admiration and awe for his talent and what he was able to achieve," he says. Odom rose to prominence for originating the role of Aaron Burr in the Broadway musical Hamilton for which he took home the Best Actor Tony® and Grammy® Awards. He recently released The Christmas Album, his second holiday album, which follows the release of Mr, his third album and first of all-original material. Odom can also be heard voicing the character of Owen Tillerman in the Apple TV+ animated musical comedy series Central Park, a role which earned him an Emmy nomination. 
Music from the film's original score composed by prolific Academy Award® nominee and six-time Grammy® winner Terence Blanchard is featured on the album. The celebrated trumpeter and composer's recent film credits include Da 5 Bloods, BlacKkKlansman,  Harriet, and HBO's Perry Mason drama series. 
Throughout his career, Blanchard has consistently attached himself to artistic works of conscience in regard to which he confesses, "You get to a certain age when you ask, 'Who's going to stand up and speak out for us?' Then you look around and realize that the James Baldwins, Muhammad Alis and Dr. Kings are no longer here… and begin to understand that it falls on you. I'm not trying to say I'm here to try to correct the whole thing, I'm just trying to speak the truth." 
"I originally had an approach of scoring this film with a larger ensemble that could possibly date back to that period," says Blanchard. "But Regina had this great idea of just using piano. It took me a while to come around to the idea but now I think the piano itself effectively creates a historical narration for the film." 
Blanchard says, "Given the nature of the score, being a jazz piano score, I gave Benny Green – a great jazz pianist – room to improvise and manipulate the melodic content for that theme." In addition to the piano, one emotional film moment gave Blanchard a chance to use another instrument. "The prayer scene with Malcolm X, allowed me to introduce the duduk (a middle eastern wind instrument) which is also used in key spots in the film," he says.   
Cast member and Grammy®, Emmy and two-time Tony nominee Jeremy Pope portrays R&B great Jackie Wilson in the film, his version of the latter's "Lonely Teardrops" appears on the soundtrack. Included on the soundtrack album, is a 1964 recording of "Put Me Down Easy" by L.C. Cooke (Sam's younger brother) written by Sam Cooke for L.C. and features his accompanying vocal as well. SAR Records released "Put Me Down Easy" as well as the organ burner "Greazee" by Billy Preston which also appears on the soundtrack. SAR Records, founded by Sam Cooke and is a chronicle of his work on behalf of the careers of others such as The Valentinos, The Soul Stirrers, and Johnnie Taylor, a storyline specifically referenced in the One Night In Miami...  
One Night In Miami… has a theatrical release of December 25th and will be released on Amazon Prime Video January 15th 2021.  
Stream "Chain Gang" by Leslie Odom Jr. Pre-order the soundtrack now! 
One Night In Miami… (Original Motion Picture Soundtrack) Track Listing:  
Rumble, Young Man, Rumble! – Terence Blanchard  

Sam Cooke Comes to Stage / Copacabana Introduction – One Night in Miami Band  

Tammy – Leslie Odom Jr.  

Howl

For

 Me Daddy

 – 

Terence

 Blanchard, 

Keb

' Mo' and 

Tarriona

 'Tank' Ball

 

Do Us All Proud – Terence Blanchard  

I Believe

To

 My Soul – One Night in Miami Band  

 

Salah Time – Terence Blanchard

I'm King

Of

The World! – Terence Blanchard

 

Put Me Down Easy – Hampton House – Leslie Odom Jr.

Put Me Down Easy – L.C. Cooke

Greazee

– Billy Preston

 

Ain't

Yo

 Stuff Safe Here – Terence Blanchard

 

Malcolm Looks Out

The

Window – Terence Blanchard

 

You Send Me – Leslie Odom Jr.

(I Love You) For Sentimental Reasons – Leslie Odom Jr. 

Brother, What Is Going On? – Terence Blanchard

I

Wanna

Damn Party – Terence Blanchard

 

Lonely Teardrops – Jeremy Pope

Chain Gang – Leslie Odom Jr.

Good Times – Leslie Odom Jr. 

A Change Is

Gonna

Come – Leslie Odom Jr. 

 

Speak Now – Leslie Odom Jr.