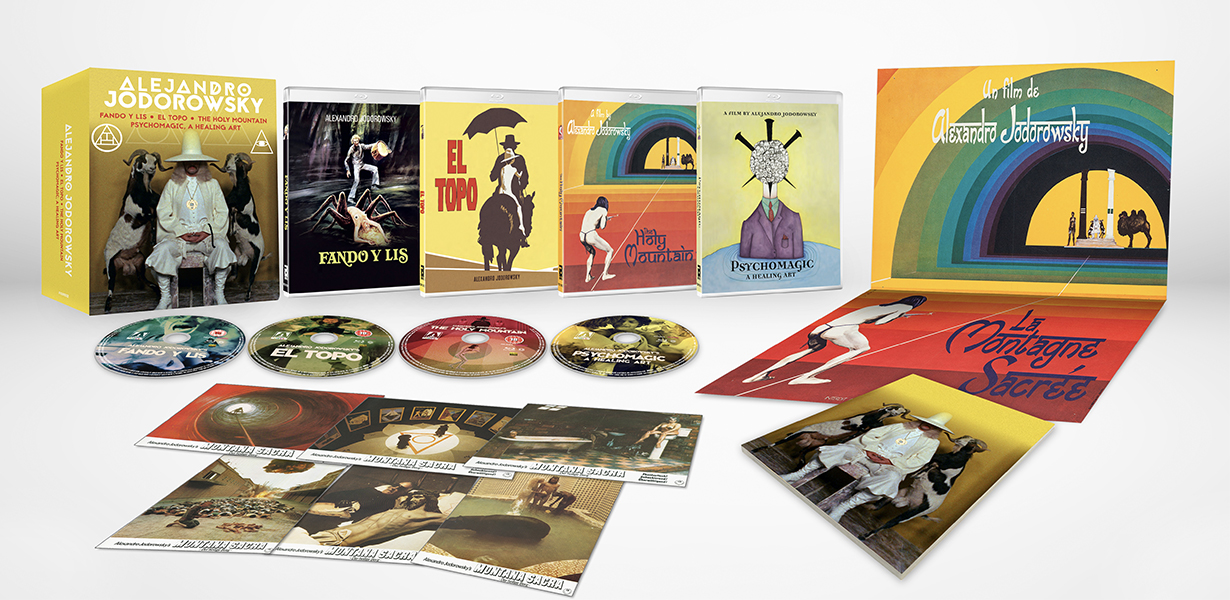 ABKCO To Include Surrealist Filmmaker's Latest Work Along With 4k Restorations Of El Topo, The Holy Mountain and Fando Y Lis In Deluxe Box Set On August 21
ABKCO Films will premiere internationally acclaimed Chilean filmmaker Alejandro Jodorowsky's latest film  Psychomagic, A Healing Art in the US and Canada on August 7 through an exclusive arrangement with Alamo Drafthouse's new VOD platform,  Alamo On Demand. Preceding the premiere, there will be a retrospective beginning  August 1, also exclusively at Alamo On Demand, featuring 4K restorations of the surrealist filmmaker's cult classics Fando y Lis, El Topo and The Holy Mountain, as well as the more recent The Dance Of Reality  and Endless Poetry. A virtual master class in Psychomagic with Jodorowsky is planned for August 8.
The home edition of Psychomagic, A Healing Art will be available as part of ABKCO Films' Alejandro Jodorowsky: 4K Restoration Collection due out August 21. This deluxe box set also includes The Maestro's films Fando y Lis, El Topo and The Holy Mountain restored in 4K on Blu-ray, along with new bonus features and CD soundtracks of the latter two titles.
Psychomagic, A Healing Art is an intimate exploration of the visionary director's theory of trauma therapy. Jodorowsky's unique concept of healing uses performance art as a vehicle to counter deep, debilitating psychic suffering with literal "acts of confrontation" in real world applications. Drawing from a life-long study of philosophy, psychology, ethnology, and world religions, from Freud to Shamans, from Kabbalah to Gurdjieff and everything in between, Jodorowsky works directly with people in pain who are eager to face, resolve and transcend their personal dilemmas through the use of radical performative art therapy. The film illuminates the Maestro's vision with themes evident since the start of his career, while contemporaneously breaking the wall between reality and performance. His healing concepts extend beyond the individual to the global, offering humanity a collective catharsis to a higher consciousness.
"The world is ill, we need to make therapy pictures," said Jodorowsky of his work. "If art is not a medicine for society, it's a poison."
At the age of 91, Jodorowsky is as relevant as he's ever been. In addition to completing  Psychomagic, A Healing Art, he supervised the color correction of the 4K restorations of his essential films using the original 35mm elements, with stunning and vibrant results. El Topo is presented in 1:33 aspect ratio as it was shown in theaters in 1970. It is also available for the first time in 1.85:1 widescreen. Jodorowsky originally envisioned the film with this aspect ratio as an homage to Sergio Leone, and a half century later, that dream has finally been fulfilled.
Official Unboxing of Alejandro Jodorowsky: 4K Restoration Collection
Jodorowsky's relationship with ABKCO dates back to 1970, when John Lennon and Yoko Ono brought El Topo to the attention of Allen Klein, the company's late founder.  Described as a "psychedelic western", El Topo follows a brazen gunslinger who abandons his young son in a quest to defeat four masters before being rescued by an underground society of  little people, paraplegic and disfigured individuals who are shunned by society. The film started the "midnight movie" phenomenon, playing the midnight slot at the Elgin Theater in New York for years.
El Topo was followed with The Holy Mountain, which firmly established Jodorowsky as an auteur of Surrealist Cinema and sparked controversy at the 1973 Cannes Film Festival due to its sacrilegious imagery. The mythical, mystical masterpiece follows an elite group of thieves who embark on a spiritual journey to displace the immortal Gods who secretly rule the universe. Jodorowsky's first feature, Fando y Lis, is a brutal and scathing examination of destructive co-dependence between two lovers conflicted by anguish and the demands they put on one another. Its grotesque and salacious imagery caused a riot at the 1967 premiere in Acapulco (MX), which he narrowly escaped after having his life threatened. Weeks later, The Holy Mountain was banned in Mexico.
Alejandro Jodorowsky 4K Restoration Collection also contains the 1957 short film Le Cravate, a mime adaptation of a Thomas Mann story about a Parisian urchin who makes her living selling human heads. Chock full of extras, the box set features a book with photos and essays as well as newly filmed interviews with Jodorowsky and his long time personal assistant Pablo Leder. Jodorowsky's son Brontis, who makes his acting debut as the young boy in El Topo, is also interviewed. In addition to the 4K Restorations, are new introductions by Columbia University professor Richard Peña, a  mini-documentary A to Z of The Holy Mountain narrated by Jodorowsky biographer Ben Cobb, and CD soundtracks for El Topo and The Holy Mountain.
The  Alejandro Jodorowsky: 4K Restoration Collection was restored by ABKCO Films and Arrow Films and will be available worldwide, ABKCO is working closely with the aforementioned Arrow Films, who are doubling as the UK distributor  Other international distributors for the box set are Nour Films in France, UpLink in Japan, Bildstoerung in Germany, NonStop Entertainment AB in Scandinavia and Minerva Pictures in Italy.
Alejandro Jodorowsky: 4K Restoration Collection
Feature Films
Fando Y Lis (1967)
El Topo (1970)
The Holy Mountain (1973)
Psychomagic, A Healing Art (2019)
Short Film
Le Cravate (1957)
Soundtracks
El Topo
The Holy Mountain
Extras
A to Z of The Holy Mountain – Ben Cobb
2019 interview with Alejandro Jodorowsky
Newly filmed interview with Brontis Jodorowsky (El Topo)
Newly filmed interview with Pablo Leder, personal assistant to Alejandro Jodorowsky (El Topo and The Holy Mountain)
New introductions by Columbia University film professor Richard Peña
Key Details
New 4K restorations on Blu-ray from original 35mm elements
New color corrections supervised by Alejandro Jodorowsky
El Topo first time ever director approved wide screen (1.85:1)
Director commentary tracks
English, French and Spanish subtitles
Book with photos and essays