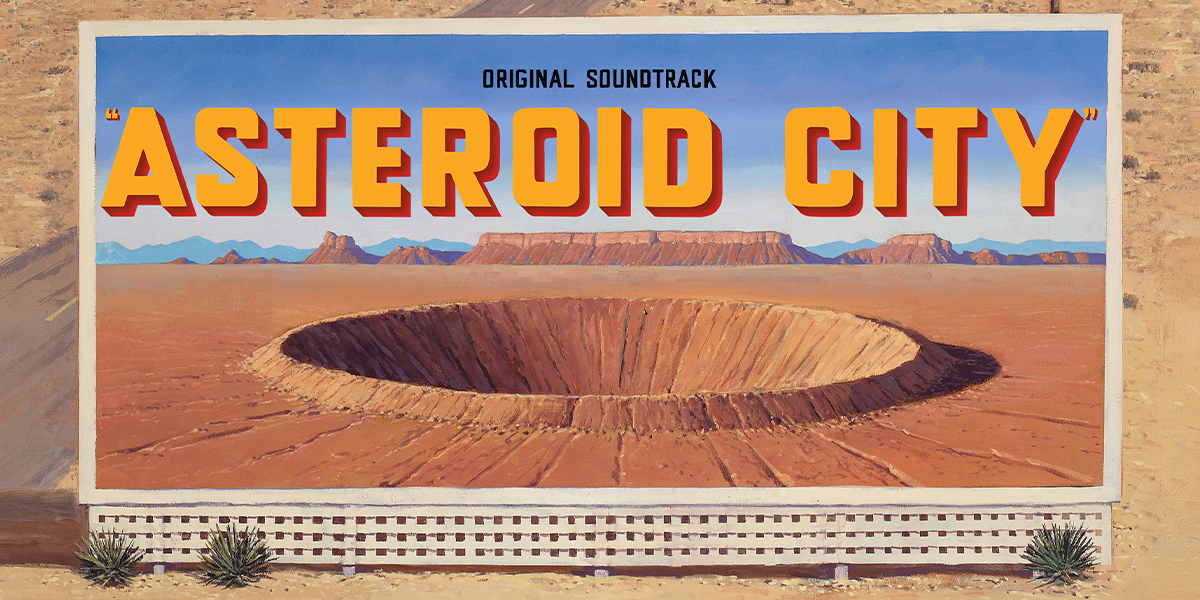 Original Songs By Pulp's Jarvis Cocker, Score By Academy Award® Winning Composer Alexandre Desplat, Classic Mid-Century Country & Western Tunes Comprise Tunestack For Critically-Acclaimed Film 
ABKCO released the Jarvis Cocker single "Dear Alien (Who Art In Heaven)" from Asteroid City (Original Soundtrack), which will be out in its entirety June 23 on all digital music platforms. In addition to Cocker himself, one of the many vocalists on the track is Brazilian musician Seu Jorge, who was prominently featured in The Life Aquatic with Steve Zissou. This marks the first time Cocker and Jorge have sung together. "Dear Alien" was co-written by Jarvis Cocker, his former Pulp bandmate Richard Hawley, and Wes Anderson, the latter of whom provided the lyrics. 
Stream "Dear Alien (Who Art In Heaven)" and view The Making of Asteroid City: Montana and the Ranch Hands Featurette
Asteroid City was written and directed by Wes Anderson and has an ensemble cast that includes Jason Schwartzman, Scarlett Johansson, Tom Hanks, Jeffrey Wright, Tilda Swinton, Bryan Cranston, Edward Norton, Adrien Brody, Liev Schreiber, Hope Davis, Stephen Park, Rupert Friend, Maya Hawke, Steve Carell, Matt Dillon, Hong Chau, Willem Dafoe, Margot Robbie, Tony Revolori, Jake Ryan and Jeff Goldblum. 
IndieWire calls Asteroid City "Anderson's dreamiest film," "one of a kind" and "the most poignant thing he's ever made," while Vanity Fair says the film presents "a mural of everyday humanity, all its quiet passion and accidental humor." Asteroid City (Original Soundtrack) incorporates an original score by decorated composer Alexandre Desplat, original tunes by Jarvis Cocker, and classic Country & Western, pop, folk and skiffle songs across its 25 tracks.  
Asteroid City takes place in a fictional American desert town circa 1955. The itinerary of a Junior Stargazer/Space Cadet convention (organized to bring together students and parents from across the country for fellowship and scholarly competition) is spectacularly disrupted by world-changing events. The film will see a limited theatrical release June 16 in NYC and LA, followed by a nationwide release June 23.  
Music supervisor Randall Poster, who has worked with Wes Anderson on every one of his films since 1998's Rushmore (making Asteroid City their tenth collaboration), said, "Wes and I had so much fun putting the film's music together. We've been doing these soundtracks for almost 30 years and have the benefit of that continuity of collaboration. We're expanding our music horizons whenever he makes a new movie." He continued, "Wes is so good with music and stands by his very strong instincts. For Asteroid City, we had been 'hunting and gathering' for a year before shooting began so were very familiar with the Country & Western genre which is not, per se, strictly country. C&W had more to do with the movies than anything else and we were kind of instinctively drawn to one song or another. Our mindset was to spread the wings of Western Swing and see what we discover."   
Asteroid City (Original Soundtrack) contains 16 songs recorded and originally released in the approximate era the film takes place. Poster commented, "We had a self-imposed rule and locked ourselves into the period." Country & Western is the predominant genre, with tracks such as Tex Ritter's "High Noon (Do Not Forsake Me)" and "(I Got Spurs) Jingle Jangle Jingle," and Tennessee Ernie Ford's million-selling 1955 rendition of "Sixteen Tons," which spent ten weeks at the top of Billboard's country music chart. Bing Crosby and Burl Ives make appearances, having a go at Western music with "Cowboy's Lament" and "The Streets of Laredo," respectively. Pop music from the pre-rock and roll era is also represented with Les Paul & Mary Ford's 1951 version of "How High The Moon," which spent nine weeks at the top of all three Billboard charts that preceded the Hot 100. UK folk and skiffle music (a British genre inspired by American blues, country, bluegrass and jazz) is also included; "Island of Dreams" by The Springfields (featuring a young Dusty Springfield and her brother Tom) and "Freight Train" by The Chas McDevitt Skiffle Group featuring Nancy Whiskey blend seamlessly in the soundtrack with their US counterparts. Johnny Duncan and The Blue Grass Boys' "Last Train to San Fernando," which is also featured in the official trailer, serves as a centerpiece. Poster said of the song, "This one kicked it all off; I had sent it to Wes for something else so he was already aware of it; that was a door opener for much of it." Johnny Duncan was an American expat living in England and he scored a UK #2 hit with the song, which is a cover of a calypso tune by Mighty Dictator. The San Fernando being sung about is actually a town on the west coast of Trinidad.   
Multiple Academy Award® and Grammy Award® winning Parisian composer Alexandre Desplat began his career scoring French films, switching over to English language films in the early 2000s. He has scored Wes Anderson's five previous films, Fantastic Mr. Fox, Moonrise Kingdom, The Grand Budapest Hotel, Isle of Dogs and The French Dispatch. Desplat has since earned an impressive number of accolades, including two Oscars for Best Original Score (The Grand Budapest Hotel, The Shape of Water) and two Grammys for Best Score Soundtrack for Visual Media (The King's Speech, The Grand Budapest Hotel). Desplat has racked up nine additional Oscar® nominations over the years, two of which are for Wes Anderson films.  
Musician/broadcaster/poet Jarvis Cocker, who is best known as the frontperson in English rock band Pulp, provided two original songs for Asteroid City (Original Soundtrack) and briefly appears in the film performing a musical number. Both "You Can't Wake Up If You Don't Fall Asleep" and "Dear Alien (Who Art In Heaven)" were produced by ex-Pulp guitarist Richard Hawley. This is not the first time Cocker's likeness and music have been intertwined in an Anderson film; his musical contributions to The French Dispatch, in which he sang in the voice of fictitious '60s French pop singer Tip-Top, inspired an entire album of material in said character, entitled Chansons d'Ennui Tip-Top (ABKCO, 2021).  
ABKCO has had a unique working relationship with Wes Anderson, releasing the original soundtrack for every film Anderson has written and directed for more than a decade and a half – The Darjeeling Limited (2007), Fantastic Mr. Fox (2009), Moonrise Kingdom (2012), The Grand Budapest Hotel (2014), Isle of Dogs (2018) and The French Dispatch (2021). These soundtracks are all currently available from ABKCO Records.  
Asteroid City (Original Soundtrack) 
WXYZ-TV Channel 8 – Alexandre Desplat

 

Last Train to San Fernando – Johnny Duncan and The Blue Grass Boys

 

Island of Dreams – The Springfields

 

April in Portugal – Les Baxter

 

Ida Red – Bob Wills & His Texas Playboys

 

Canon [Canon and Gigue in D Major] – Henk Bouman, Musica Antiqua Köln, Reinhard Goebel

 

Opening Ceremony with Awards Presentation (Keynote Speaker: General Grif Gibson) – Alexandre Desplat

 

(I Got Spurs) Jingle Jangle Jingle – Tex Ritter and His Texans

 

Orange Blossom Special – Bill Monroe & His Blue Grass Boys

 

High Noon (Do Not Forsake Me) – Tex Ritter

 

Cowboy's Lament – Burl Ives

 

Viewing of the Astronomical Ellipses (Opening Comments: Dr. Hickenlooper) – Alexandre Desplat

 

Rosie Marie – Slim Whitman

 

Indian Love Call – Slim Whitman

 

Sixteen Tons – Tennessee Ernie Ford

 

The Cattle Call – Eddy Arnold with Hugo Winterhalter and His Orchestra and Chorus

 

Special Seminar at the Playwright's Request (Saltzburg Keitel's Classroom) – Alexandre Desplat

 

Dear Alien (Who Art In Heaven) – Jarvis Cocker

 

Kaw-Liga – Johnny Duncan and The Blue Grass Boys 

 

Emergency Assembly – Alexandre Desplat

 

A Bewildering and Bedazzling Celestial Mystery – Alexandre Desplat

 

How High The Moon – Les Paul & Mary Ford

 

The Streets of Laredo – Bing Crosby

 

Freight Train – The Chas McDevitt Skiffle Group featuring Nancy Whiskey 

 

You Can't Wake Up If You Don't Fall Asleep – Jarvis Cocker