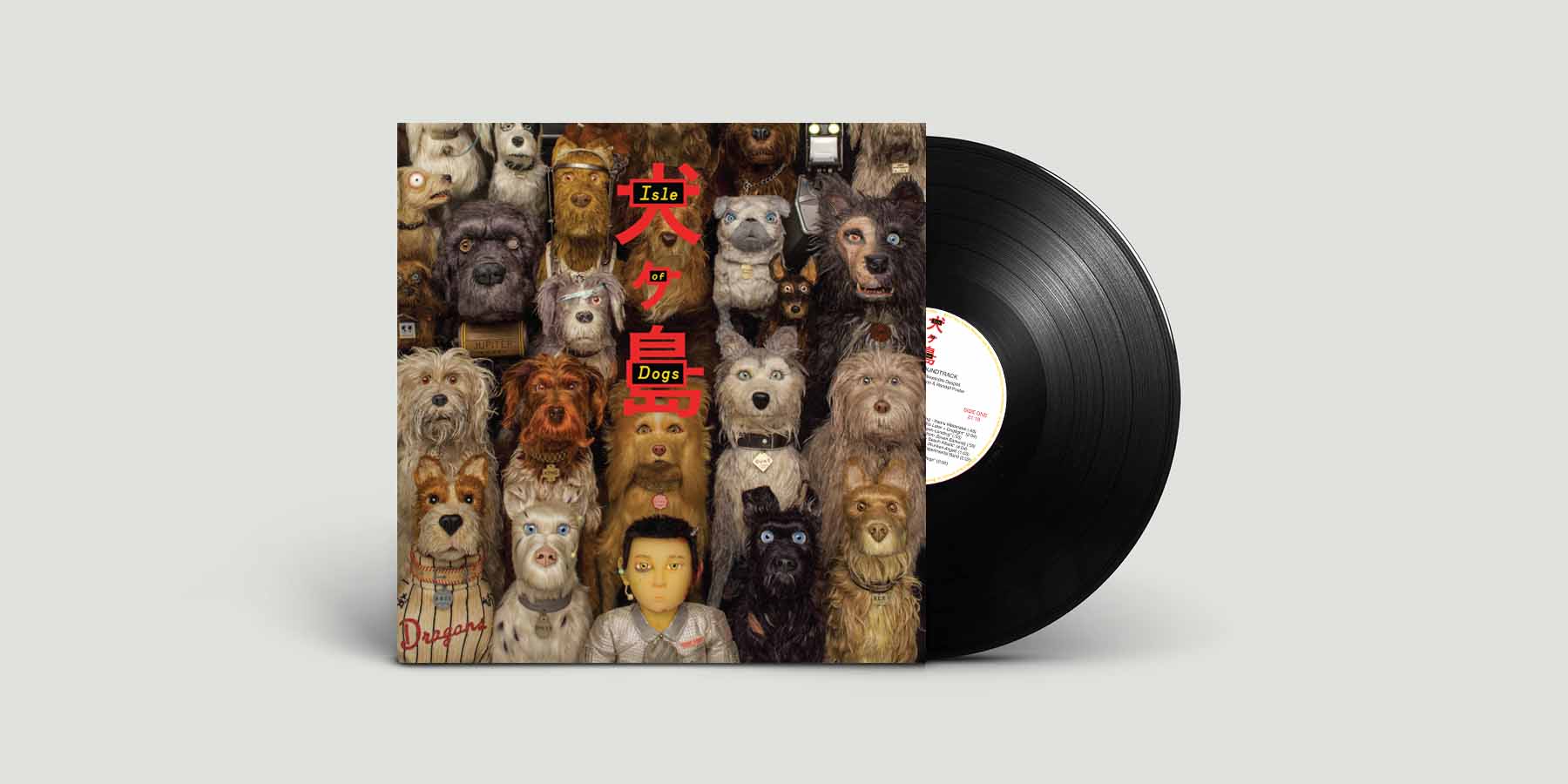 Available June 29th, the  Isle of Dogs (Original Soundtrack) on 180-gram vinyl LP. The album, featuring two-time Oscar® winning composer Alexandre Desplat's score, is available now to stream, and download now, and on CD. Isle of Dogs is in select theaters now.
Isle of Dogs is the stop-motion animated feature starring Bryan Cranston, Koyu Rankin, Edward Norton, Bob Balaban, Bill Murray, Jeff Goldblum, Kunichi Nomura, Akira Takayama, Greta Gerwig, Frances McDormand, Akira Ito, Scarlett Johansson, Harvey Keitel, F. Murray Abraham, Yoko Ono, Tilda Swinton, Ken Watanabe, Mari Natsuki, Fisher Stevens, Nijiro Murakami, Liev Schreiber and Courtney B. Vance. It tells the story of Atari Kobayashi, 12-year-old ward to corrupt Mayor Kobayashi. When, by Executive Decree, all the canine pets of Megasaki City are exiled to a vast garbage-dump, Atari sets off alone in a miniature Junior-Turbo Prop and flies to Trash Island in search of his bodyguard-dog, Spots. There, with the assistance of a pack of newly-found mongrel friends, he begins an epic journey that will decide the fate and future of the entire Prefecture.  Isle of Dogs was an Audience Awards winner at the 2018 SXSW Film Festival last week, where it was screened to an enthusiastic, sweatband-clad congregation.
Features Original Score By Academy Award®-Winning Composer Alexandre Desplat
Isle of Dogs is the fourth film written, directed and produced by Wes Anderson that Desplat has scored. It follows Fantastic Mr. Fox, Moonrise Kingdom and The Grand Budapest Hotel, the latter of which earned Desplat his first Academy Award® in 2015. All of these soundtracks are currently available by ABKCO, as well as the soundtrack of Anderson's 2007 film The Darjeeling Limited.
In addition to Desplat's score, Isle of Dogs (Original Soundtrack) features compositions from acclaimed Japanese films Seven Samurai and Drunken Angel, American composer/musician Kaoru Watanabe's taiko drumming, and off-beat tracks by the West Coast Pop Art Experimental Band and The Sauter-Finegan Orchestra. The soundtrack is produced by Wes Anderson and his longtime collaborator Randall Poster.
Track List
1)     Shinto Shrine – Alexandre Desplat
2)     Taiko Drumming – Kaoru Watanabe
3)     The Municipal Dome – Alexandre Desplat
4)     Six Months Later Dog + Dog-Fight – Alexandre Desplat
5)     The Hero Pack – Alexandre Desplat
6)     First Crash-Landing – Alexandre Desplat
7)     Kanbei & Katsushiro–Kikuchiyo's Mambo (from Seven Samurai) – Toho Symphony Orchestra
8)     Second Crash-Landing + Bath House + Beach Attack – Alexandre Desplat
9)     Nutmeg – Alexandre Desplat
10)  Kosame No Oka (from Drunken Angel) – David Mansfield
11)  I Won't Hurt You – The West Coast Pop Art Experimental Band
12)  Toshiro – Alexandre Desplat
13)  Jupiter and Oracle + Aboriginal Dogs – Alexandre Desplat
14)  Sushi Scene – Alexandre Desplat
15)  Midnight Sleighride (from "The Lieutenant Kije Suite") – The Sauter-Finegan Orchestra
16)  Pagoda Slide – Alexandre Desplat
17)  First Bath of a Stray Dog – Alexandre Desplat
18)  TV Drumming  – Kaoru Watanabe
19)  Konbayashi Canine-Testing Laboratory – Alexandre Desplat
20)  Tokyo Shoe Shine Boy – Teruko Akatsuki
21)  Re-Election Night Parts 1-3 – Alexandre Desplat
22)  End Titles – Alexandre Desplat
Pre-order Isle of Dogs (Original Soundtrack) vinyl