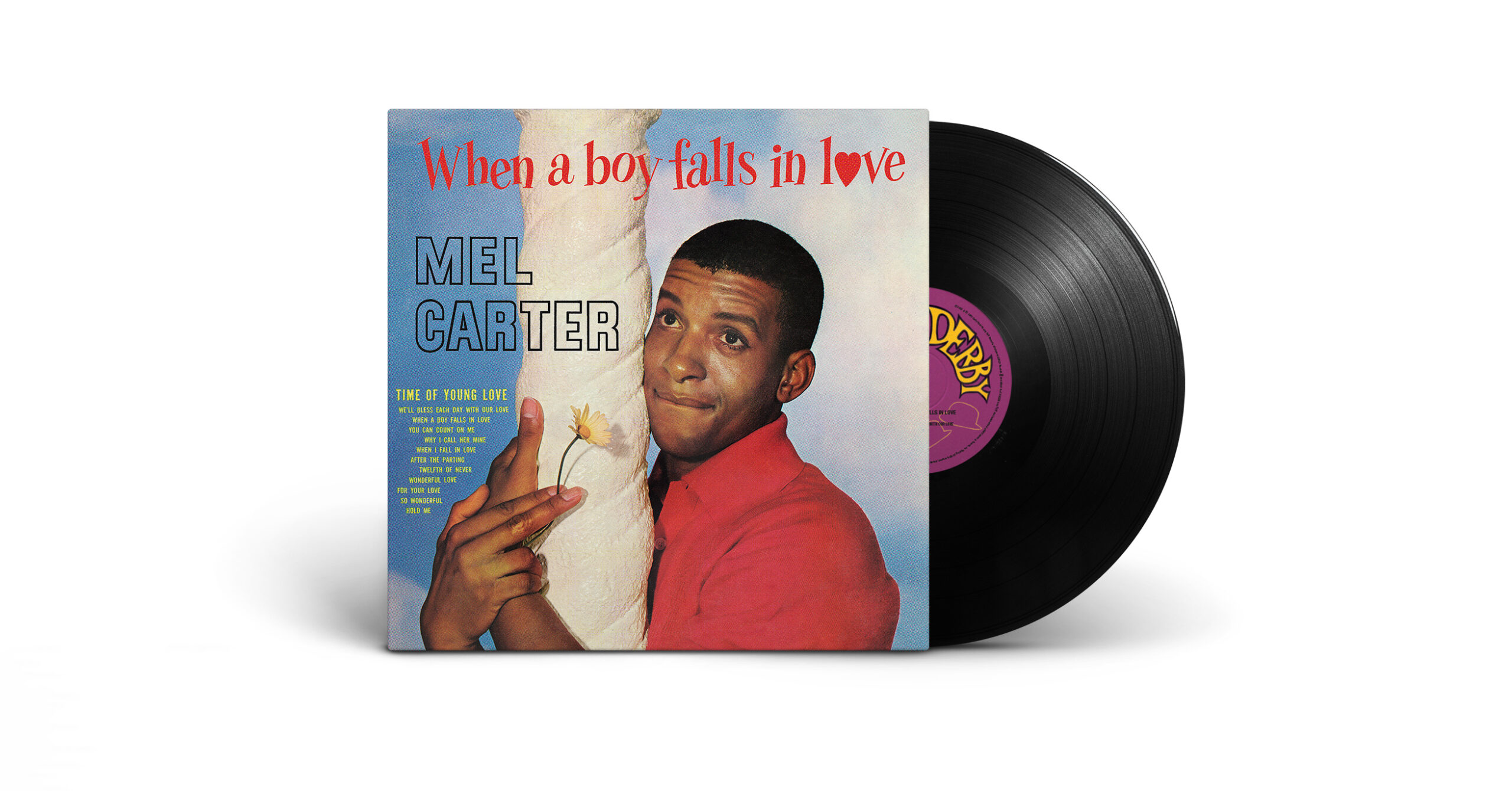 Mel Carter's first full-length album, When A Boy Falls In Love, originally released in 1963, will be back in print in May 2022. ABKCO, steward of Sam Cooke's SAR Records catalog of which this title is part, has announced that the album, including the hit title track and 11 other selections will be available on LP, while the CD and digital releases will contain bonus material. When A Boy Falls In Love originally awarded 4-stars by Billboard, has long been unavailable and much sought after by collectors over the decades since its initial release 58 years ago.  
Like Sam Cooke, Mel Carter's roots are in gospel music. He was a prodigy whose first recordings were made when he was a child in his hometown of Cincinnati. The two first met in the early 1950s, when Carter's group The Robert Anderson Singers shared a bill with Cooke's group The Soul Stirrers while touring on the gospel circuit. 
Years later, Mel Carter moved to Los Angeles and reconnected with Cooke who was one of the biggest names in the business. Cooke, along with manager J.W. Alexander and former Soul Stirrer Senior Roy Crain had started SAR Records in 1959 and it was the label home of numerous artists including, 16-year-old Billy Preston, gospel stars The Soul Stirrers, The Valentinos, a group consisting of Bobby Womack and his four brothers, soul man Johnnie Morisette, Sam's brother L.C. Cooke, and secular R&B recordings by Johnnie Taylor who came to SAR with The Soul Stirrers.  
J.W. Alexander saw Carter at a downtown Los Angeles jazz club and suggested he come to SAR's office on Hollywood Boulevard. Carter showed up the next day and Cooke soon signed him to a recording contract.  
Now in his early 80s, Carter recalls, "Sam liked my phrasing as I was as adept as he was at fitting the lyric to the melody." Cooke wrote "When A Boy Falls In Love" and arranged for Carter to track it at United Recording in Hollywood with J. W. Alexander and Fred Smith producing. The February 25, 1963 session was engineered by Bones Howe, who would later work with a wide range of artists including The 5th Dimension, Johnny Rivers, Elvis Presley and Tom Waits.  
"When a Boy Falls In Love" was not released on SAR, but rather on the newly established Derby label that Cooke and Alexander, at the urging of SAR office manager Zelda Samuels (and Carter's future manager), had earmarked for pop-oriented material. By the time summer ended, the single had spent ten weeks on both the Pop and R&B charts and was named a "Breakout Single" by Billboard in June 1963. To this day, Carter delights in noting, "It was the first crossover record from a black-owned company." Wink Martindale, the disc jockey who was one of the first to play Elvis Presley on the air in1954 when he was with WHBQ in Memphis, was a popular personality at KFWB, the powerhouse LA Top 40 radio station whose studios were down the street from SAR's Hollywood office. Underscoring Mel Carter's pop/crossover appeal, Martindale was enlisted to write the album's liner notes, included with the faithfully restored package. R&B scholar Bill Dahl has been enlisted to add current-day liner notes to the LP and CD packages.  
The success of "When A Boy Falls In Love," which spent 10 weeks on the pop chart, begat a full 12-track album, set for reissue under its original title. Produced by Cooke and Alexander, the album includes songs written by Cooke, Alexander, and Samuels as well as some pop standards and "Why I Call Her Mine," a Mel Carter original composition that would be issued as a single in 1963. Carter performed "When A Boy Falls In Love" on numerous TV shows including Dick Clark's American Bandstand, but he was back in Cincinnati when he first heard the song on the radio while cruising Central Avenue in a car full of friends. They screeched to a halt with Mel and friends exiting the vehicle, but not before turning the radio up for all the passers-by to hear his hit.  
 Today, Mel Carter, who went onto a career marked by a massive hit record ("Hold Me, Thrill Me, Kiss Me") and as an actor with roles on such TV shows as Sanford and Son, Marcus Welby, M.D. and Magnum, P.I., recalls his days at SAR/Derby with great fondness. "Sam Cooke was like an older brother to me; he took care of everybody at the label. It was really like a family for us."  
 Listen to "You Can Count on Me" and pre-order When a Boy Falls in Love here.
When A Boy Falls In Love 
Time Of Young Love (2:51)

 

We'll Bless Each Day With Our Love (2:38)

 

So Wonderful (1:56)

 

When I Fall In Love (2:37)

 

Twelfth Of Never (2:39)

 

Why I Call Her Mine (2:20)

 

When A Boy Falls In Love (2:55)

 

Hold Me (2:25)

 

For Your Love (2:09)

 

Wonderful Love (2:17)

 

After The Parting The Meeting Is Sweeter (2:28)

 

You Can Count On Me (3:13)

 

When A Boy Falls In Love (Single Version) (2:46)**

 

So Wonderful (Single Version) (1:56)**

 
** CD/Digital Bonus Tracks