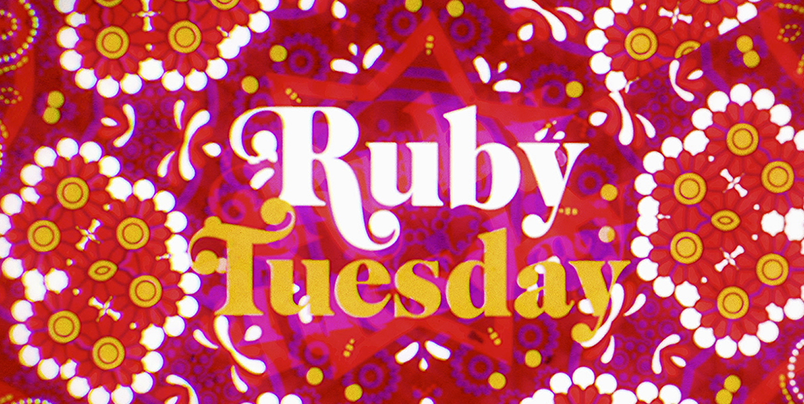 "Ruby Tuesday," The Rolling Stones 1967 smash hit, has a newly created lyric video being released by ABKCO Music & Records in conjunction with the group's 2018 European Tour. The video features a rhythmic presentation of the song's lyrics coupled with a dazzling 1960's-style floral motif.
Watch it here: youtu.be/ADtnUC_ctNk
For this hauntingly beautiful ballad, the goal was to create a romantic and evocative visual inspired by 60s design and an independent, free-spirited woman. To enhance the wistful, baroque feel of the verses, densely decorative floral and paisley patterns which form throughout each scene create a rich tapestry of detail. The lyrics appear in a beautiful, bold, swash style typeface accompanied by calligraphic flourishes. The choruses cut to kaleidoscopic patterns set against a bright ruby red backdrop, ensuring a big hit of color in contrast to the verses.
The song was written, for the most part, by Stones guitarist Keith Richards in 1966, "Ruby Tuesday" was inspired by Linda Keith, his girlfriend at the time, who had recently left him for a poet named Bill Chenail; soon thereafter she began dating rising star Jimi Hendrix. "That's the first time I felt the deep cut," Richards recollected in his 2010 autobiography Life. "The thing about being a songwriter is, even if you've been fucked over, you can find consolation in writing about it, and pour it out . . . It becomes an experience, a feeling, or a conglomeration of experiences. Basically, Linda is 'Ruby Tuesday.'"
Mournful and reflective in tone, the recording features Brian Jones on recorder, Bill Wyman fretting a double bass (with Keith Richards bowing it) and outside help from arranger/composer Jack Nitzsche who played piano on the track. Initially released in January 1967 as a b-side to "Let's Spend the Night Together," "Ruby Tuesday" became The Rolling Stones'fourth #1 U.S. hit, and got to #3 in the UK. It has since been used in many film and television soundtracks, most notably Academy Award® winning war drama Coming Home (1978) and Wes Anderson's The Royal Tenenbaums (2001).
The mono version of "Ruby Tuesday," as heard in the lyric video, is available from ABKCO as part of The Rolling Stones in Mono box set (CD or LP), Singles Collection: The London Years 3CD, as a digital download (standard or HD) and on all streaming services. The stereo version can be found on the Between the Buttons CD (US version), Flowers CD, Hot Rocks 1964-1971 2CD, The Very Best of The Rolling Stones 1964-1971 CD, as a digital download and on all streaming services.
Ruby Tuesday (Official Lyric Video)
Directed by: Lucy Dawkins and Tom Readdy at Yes Please Productions
Producers: Julian Klein, Robin Klein, Mick Gochanour