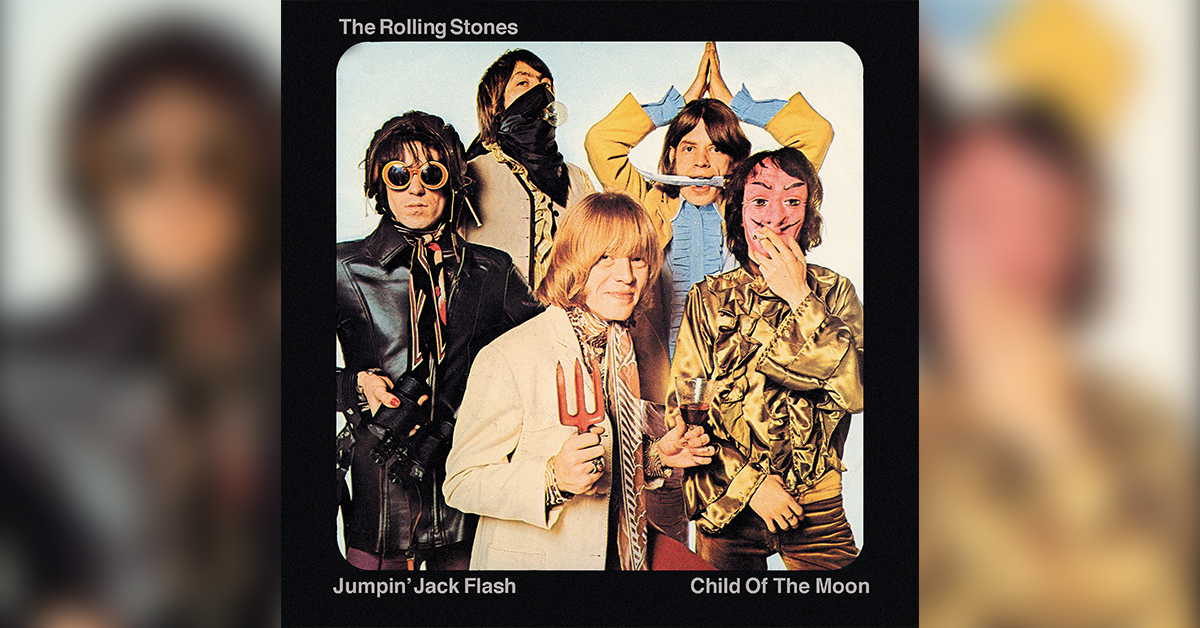 NEWLY REMASTERED TRACKS ALSO TO BE RELEASED DIGITALLY FOR ANNIVERSARY OF ORIGINAL 1968 SINGLE
New lyric videos for The Rolling Stones' 1968 smash hit single "Jumpin' Jack Flash" and its relatively obscure B-Side "Child of the Moon" will be released by ABKCO on May 28. Both tracks, newly remastered by twelve-time Grammy-winning mastering engineer Bob Ludwig, will also be released digitally that day as a single on all streaming platforms.
The story of "Jumpin' Jack Flash" was inspired by Jack Dyer who was Keith Richards' gardener. When Mick Jagger, who was overnighting at Keith's home, was awakened to the sound of Dyer's footsteps, Richards put the blame on "Jumpin' Jack." The duo penned the song and the band recorded it in April and May of 1968 with Jimmy Miller producing at Olympic Studios. All five original members played on the recording, with bassist Bill Wyman providing Hammond organ, and Richards on bass as well as lead guitar. Richards' guitar part was famously played entirely on an acoustic through the microphone of a tape recorder for a distorted effect. The opening lyric, "I was born in a crossfire hurricane" refers to Richards being born in Dartford, England during WWII when air raid sirens were a regular occurrence. First released as a single in the UK almost exactly 53 years ago (May 24, 1968) and one week later in the US, "Jumpin' Jack Flash" was a commercial and critical triumph, hitting number one on the UK Singles chart and US Cash Box Top Singles chart. To date, it has been played live more than 1,150 times by the band, making it their most performed song.
"With 'Jumpin' Jack Flash' being among the greatest Rock 'n Roll singles of all time we knew we had to create a visual that somehow matched the swagger and excitement of the track," stated music video directors Tom Readdy and Lucy Dawkins of London-based creative design studio Yes Please Productions. "With that guitar riff and Jagger's exceptional searing vocal we set out to create animations that hit and emphasized every beat, guitar part and syllable sung. The simplicity of the color palette, along with rough, hand drawn elements all come together to create an energetic visual to accompany the joyful rush of adrenaline that is 'Jumpin' Jack Flash'."
Like its A-Side, "Child of the Moon" was recorded at Olympic Studios with Jimmy Miller and was also written by Jagger and Richards. Lyrically a love letter to the singer's then-girlfriend, recording artist Marianne Faithfull, the song features saxophone by Brian Jones and is more in line with their recently released psychedelic albums Between the Buttons and Their Satanic Majesties Request than "Jumpin' Jack Flash," which points to the more stripped-down direction the Stones would head in with Beggars Banquet and Let It Bleed.
Tom Readdy and Lucy Dawkins of Yes Please Productions explained, "Our lyric video for 'Child Of The Moon' is inspired by the natural landscape and elements in the promo video for the track from 1968 directed by Michael Lindsay-Hogg. The song was unfinished during the sessions for Their Satanic Majesties Request and often seen as the postscript to the psychedelic era of the band. We leant into this vibe to create '60s inspired bespoke illustrations of flowers, leaves and patterns that grow in and around the ornate typeface. This typeface incidentally featured on an original 7″ picture sleeve for 'Jumpin' Jack Flash'/'Child Of The Moon'."