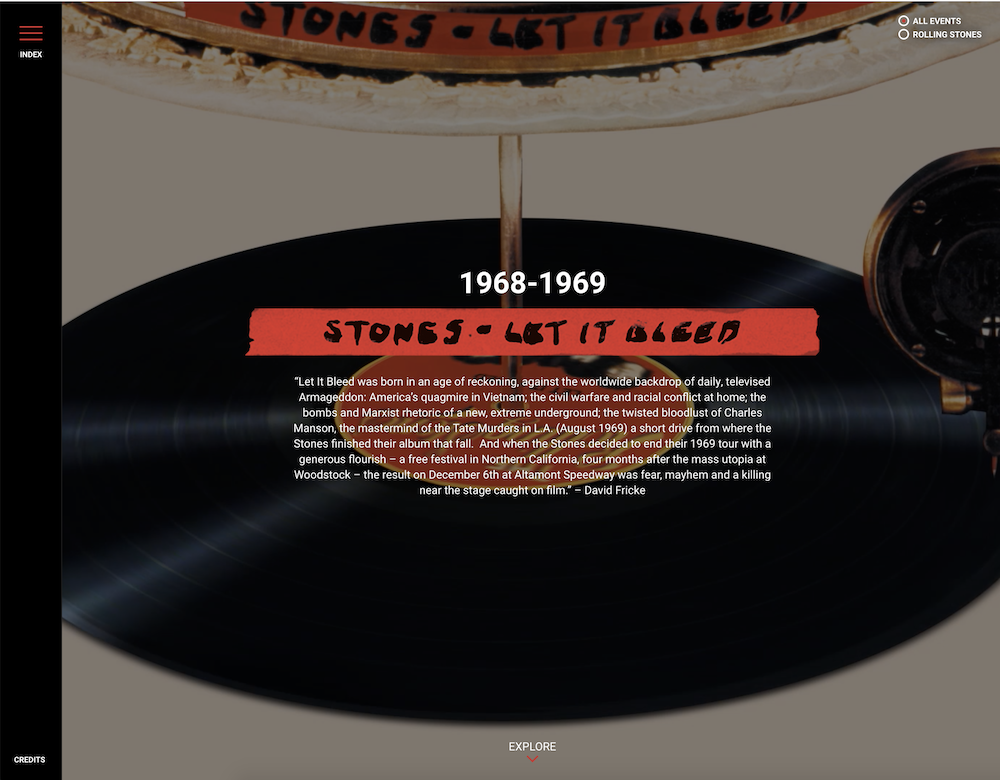 December 5, 2019, on the 50th Anniversary of the The Rolling Stones, Let It Bleed,  album original (UK) release, LetitBleed50.com is an online, interactive cultural and musical experience. The site is a frame of reference that examines the forces that coalesced to make this body of work the dynamic presence it was and continues to be today. The Rolling Stones Let It Bleed 1968-69 Historical Timeline is an interactive cultural and musical experience.
In an effort to fully appreciate the original construct of The Rolling Stones' Let It Bleed a half century ago, one must examine the era in which the band's masterwork came to be.  1968 and 1969 were a time of violence, and a time of celebration. It was most certainly a period of change. From the global student protests, and The Viet Nam War; to the assassinations of political leaders and Altamont, From the First Man walking on the moon to Woodstock; This decade will be remembered as one of the most iconic of the 20th century.
During this period,  The Rolling Stones would record "Let it Bleed" including "You Can't Always Get What You Want" with the London Bach Choir, and produce and appear in The Rolling Stones Rock and Roll Circus, and star in Jean Luc Goddard's One Plus One/Sympathy For The Devil. The releases of "Jumpin' Jack Flash" (single), Beggars Banquet (album), "Honky Tonk Women" (single) and Let It Bleed (album) indicated their return to Blues and R&B roots. They shot the innovative promo for "Jumpin' Jack Flash" which is a pioneering and seminal music video filmed.  The band's performance in London's Hyde Park was the largest outdoor concert every held at that time and, in the final months of 1969 the band completed a United States tour.
"Let It Bleed was born in an age of reckoning, against the worldwide backdrop of daily, televised Armageddon: America's quagmire in Vietnam; the civil warfare and racial conflict at home; the bombs and Marxist rhetoric of a new, extreme underground; the twisted bloodlust of Charles Manson, the mastermind of the Tate Murders in L.A. (August 1969) a short drive from where the Stones finished their album that fall.  And when the Stones decided to end their 1969 tour with a generous flourish – a free festival in Northern California, four months after the mass utopia at Woodstock – the result on December 6th at Altamont Speedway was fear, mayhem and a killing near the stage caught on film." – David Fricke