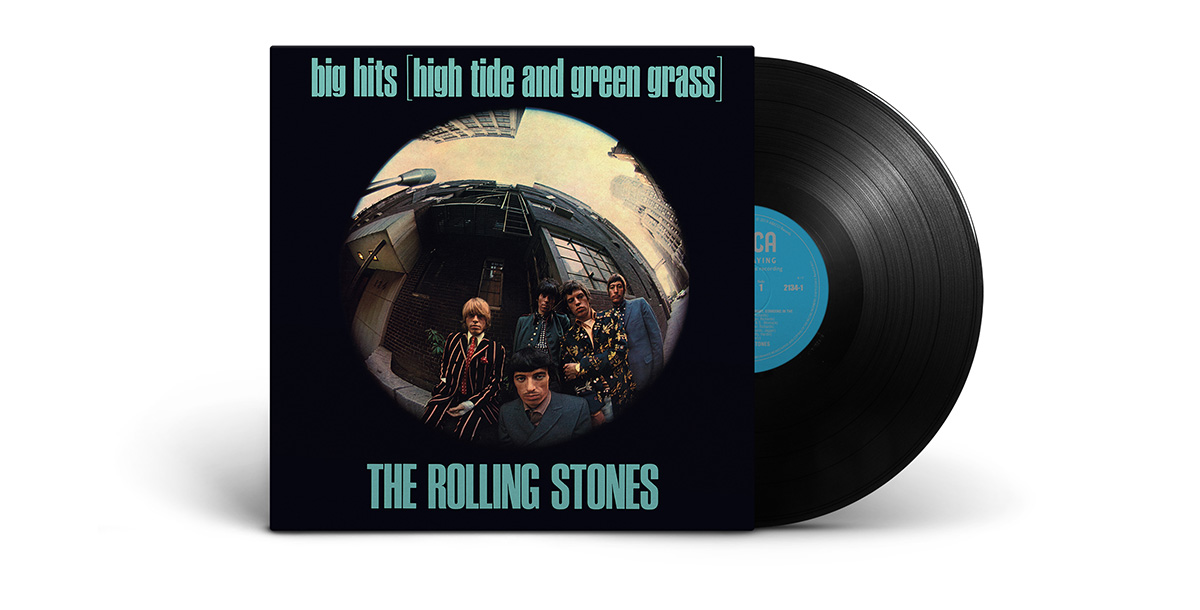 16 Titles From 1960s Catalog, Some of Which Have Been Out-of-Print For Almost Four Decades, To Be Rolled Out Over Next Year On 180-Gram Vinyl, Continuing With UK Version of Big Hits (High Tide and Green Grass) June 9
ABKCO Records reissued the US version of the seminal 1966 album Aftermath by The Rolling Stones on vinyl at the very end of March, kicking off the label's enormous undertaking of getting 16 titles from the legendary rock band's back catalog back in print in their original format. Throughout the remainder of the year and into early 2024, US and UK versions of albums recorded between 1963 and 1970, largely by the original Jagger/Richards/Jones/Watts/Wyman lineup, will find their way onto 180-gram vinyl. Some of these titles, including their debut live album Got Live If You Want It!, Between The Buttons (US) and the aforementioned Aftermath (US), have been out-of-print as stand-alone vinyl records for the past 37 years.
During the 1960s, it was customary for album release versions to differ depending on the territory in which they were released and this was the case with The Rolling Stones in that era, their UK label, Decca Records, and US label, London Records, had separate schedules, often utilizing different cover art and different tune stacks for a given title. In the case of Aftermath, the first Stones album containing only original Jagger/Richards compositions, Americans were treated to the groundbreaking hit "Paint It, Black" kicking off side 1, taking the place of "Mother's Little Helper" (and sleeve art featuring David Bailey's haunting color photograph of the band members with faces blurred) on the UK version.
April 28 saw the reissue of their 1967 opus Between The Buttons (US) which, despite utilizing near-identical cover art as its British counterpart, has the distinction of containing the number one hit "Ruby Tuesday" and the controversial "Let's Spend the Night Together."
After this, a flurry of collections will be reissued, including the UK and US versions of The Rolling Stones first hits compilation Big Hits (High Tide and Green Grass) on June 9 and June 16 respectively. This is followed on June 16 by the US-only release Flowers (1967), which partially served to give the American market songs that were omitted from the London Records-issued Aftermath and Between The Buttons, but also contained three previously unreleased tracks ("My Girl," "Ride On, Baby," "Sittin' On A Fence"). The band's first official rarities collection Metamorphosis will get its own vinyl reissue on July 14. Originally released in 1975 by ABKCO, and consisting of outtakes and Jagger/Richards demos written for other artists recorded between 1964 and 1970, many tracks utilize guest musicians such as Jimmy Page ("Heart Of Stone") and John McLaughlin ("I'd Much Rather Be With The Boys").
On September 15, both the US and UK versions of Out Of Our Heads (1965) will be reissued. This title marked a milestone in The Rolling Stones' career – it was their first number one US album, containing their first chart topping US single "(I Can't Get No) Satisfaction." It was also their last album of this era to primarily consist of covers (Don Covay's "Mercy, Mercy," Marvin Gaye's "Hitch Hike" and Solomon Burke's Bert Berns-penned "Cry To Me," among many others). The UK version contains two underrated pop gems – "I'm Free" and the sublimely cynical "The Under Assistant West Coast Promotion Man."
The Rolling Stones' second hits collection Through The Past, Darkly (Big Hits Vol. 2) (1969), notable for its octagonal sleeve and epitaph for the then recently departed Brian Jones, will receive its vinyl reissue on October 20 (UK version) and November 10 (US version). The former contains "You Better Move On," "Sittin' On A Fence" and "We Love You," while the latter contains "Paint It, Black" and "Have You Seen Your Mother, Baby, Standing In The Shadow?" Virtually every track on the stop sign-shaped package is ubiquitous, from "Jumpin' Jack Flash" to "She's a Rainbow."
December 1 will see the reissue of the aptly titled sophomore UK album The Rolling Stones No. 2 (1965), as well as December's Children (and Everybody's) (1965), an American release gathering some of the material from Decca's Out Of Our Heads as well as the hit single "Get Off Of My Cloud" and "As Tears Go By." On December 1, Got Live If You Want It! (1966) will again see the light of day. Only released in the US, this live album contains performances from three concerts in England recorded earlier in the year, including a barn-burning version of  "I'm Alright." The album is fleshed out with two earlier studio recordings: "Fortune Teller" from 1963 and "I've Been Loving You Too Long" from 1965, with added crowd ambiance.
Both originally released in 1964, ABKCO plans on vinyl reissues for the debut US album (England's Newest Hit Makers) on October 6 and the debut UK album (The Rolling Stones) in early 2024. Their third US album The Rolling Stones, Now! from 1965 will also be reissued in 2024. The latter contains their number one UK hit "Little Red Rooster (a cover of the Howlin' Wolf song written by Willie Dixon) as well as the Jagger/Richards ballad "Heart Of Stone."
These 16 180-gram vinyl reissues will join The Rolling Stones back catalog that ABKCO has long kept in print, including 12 x 5 (1964), Aftermath (UK version, 1966), Between The Buttons (UK version, 1967), Their Satanic Majesties Request (1967), Beggars Banquet (1968), Let It Bleed (1969), the live album Get Yer Ya-Ya's Out! The Rolling Stones In Concert (1970), and the collections Hot Rocks 1964-1971 (1971) and More Hot Rocks (Big Hits & Fazed Cookies) from 1972.
The Rolling Stones black vinyl reissue release schedule:
June 9 – Big Hits (High Tide and Green Grass) (UK version)
Side A
Have You Seen Your Mother, Baby, Standing In The Shadow?
Paint It, Black
It's All Over Now
The Last Time
Heart of Stone
Not Fade Away
Come On
Side B
(I Can't Get No) Satisfaction
Get Off Of My Cloud
As Tears Go By
19th Nervous Breakdown
Lady Jane
Time Is On My Side
Little Red Rooster
June 16 – Big Hits (High Tide and Green Grass) (US version)
Side A
(I Can't Get No) Satisfaction
The Last Time
As Tears Go By
Time Is On My Side
It's All Over Now
Tell Me
Side B
19th Nervous Breakdown
Heart Of Stone
Get Off Of My Cloud
Not Fade Away
Good Times, Bad Times
Play With Fire
June 16 – Flowers
Side A
Ruby Tuesday
Have You Seen Your Mother, Baby, Standing In The Shadow?
Let's Spend The Night Together
Lady Jane
Out Of Time
My Girl
Side B
Back Street Girl
Please Go Home
Mother's Little Helper
Take It Or Leave It
Ride On, Baby
Sittin' On A Fence
July 14 – Metamorphosis
Side A
Out Of Time
Don't Lie To Me
Somethings Just Stick In Your Mind
Each and Every Day of the Year
Heart Of Stone
I'd Much Rather Be With The Boys
(Walkin' Thru The) Sleepy City
We're Wastin' Time
Try A Little Harder
Side B
I Don't Know Why
If You Let Me
Jiving Sister Fanny
Downtown Suzie
Family
Memo From Turner
I'm Going Down
September 15 – Out Of Our Heads (US version)
Side A
Mercy Mercy
Hitch Hike
The Last Time
That's How Strong My Love Is
Good Times
I'm Alright (Live)
Side B
(I Can't Get No) Satisfaction
Cry To Me
The Under Assistant West Coast Promotion Man
Play With Fire
The Spider And The Fly
One More Try
September 15 – Out Of Our Heads (UK version)
Side A
She Said Yeah
Mercy Mercy
Hitch Hike
That's How Strong My Love Is
Good Times
Gotta Get Away
Side B
Talkin' 'Bout You
Cry To Me
Oh, Baby (We Got A Good Thing Goin')
Heart Of Stone
The Under Assistant West Coast Promotion Man
I'm Free
October 6 – England's Newest Hit Makers
Side A
Not Fade Away
Route 66
I Just Want To Make Love To You
Honest I Do
Now I've Got A Witness
Little By Little
Side B
I'm A King Bee
Carol
Tell Me
Can I Get A Witness
You Can Make It If You Try
Walking The Dog
October 20 – Through The Past Darkly (Big Hits Vol. 2) (UK version)
Side A
Jumpin' Jack Flash
Mother's Little Helper
2,000 Light Years From Home
Let's Spend The Night Together
You Better Move On
We Love You
Side B
Street Fighting Man
She's A Rainbow
Ruby Tuesday
Dandelion
Sittin' On The Fence
Honky Tonk Women
November 10 – Through The Past Darkly (Big Hits Vol. 2) (US version)
Side A
Paint It, Black
Ruby Tuesday
She's a Rainbow
Jumpin' Jack Flash
Mother's Little Helper
Let's Spend the Night Together
Side B
Honky Tonk Women
Dandelion
2000 Light Years from Home
Have You Seen Your Mother, Baby, Standing in the Shadow?
Street Fighting Man
December 1 – The Rolling Stones No. 2
Side A
Everybody Needs Somebody To Love (Version 2)
Down Home Girl
You Can't Catch Me
Time Is On My Side (Version 2)
What A Shame
Grown Up Wrong
Side B
Down The Road Apiece
Under The Boardwalk
I Can't Be Satisfied
Pain In My Heart
Off The Hook
Suzie-Q
December 1 – December's Children (And Everybody's)
Side A
She Said Yeah
Talkin' 'Bout You
You Better Move On
Look What You've Done
The Singer Not he Song
Route 66 (Live)
Side B
Get Off Of My Cloud
I'm Free
As Tears Go By
Gotta Get Away
Blue Turns To Grey
I'm Moving On (Live)
December 1 – Got Live If You Want It!
Side A
Under My Thumb
Get Off Of My Cloud
Lady Jane
Not Fade Away
I've Been Loving You Too Long
Fortune Teller
Side B
The Last Time
19th Nervous Breakdown
Time Is On My Side
I'm Alright
Have You Seen Your Mother, Baby, Standing In The Shadow?
(I Can't Get No) Satisfaction
Coming In 2024:
The Rolling Stones, Now!
Side A
Everybody Needs Somebody To Love (Version 1)
Down Home Girl
You Can't Catch Me
Heart Of Stone
What A Shame
Mona (I Need You Baby)
Side B
Down The Road Apiece
Off The Hook
Pain In My Heart
Oh, Baby (We Got A Good Thing Goin')
Little Red Rooster
Surprise, Surprise 
The Rolling Stones (UK version)
Side A
Route 66
I Just Want To Make Love To You
Honest I Do
Mona (I Need You Baby)
Now I've Got A Witness
Little By Little
Side B
I'm A King Bee
Carol
Tell Me
Can I Get A Witness
You Can Make It If You Try
Walking The Dog